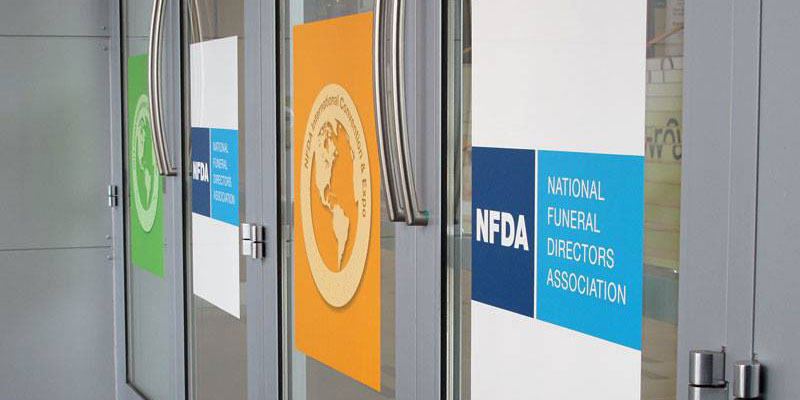 Every year, we look forward to the NFDA International Convention & Expo as an opportunity to connect with you. The 2015 NFDA convention in Indianapolis, IN (October 18-21) offers a full schedule of events, workshops and networking opportunities – which means there's something to excite every funeral service professional.
We've compiled a list of the reasons why the NFDA convention provides a great experience, but there are sure to be many more. Please let us know why you're excited to attend in the comments below.
1. You'll get ideas for growing your business.
The NFDA convention is an excellent place to learn strategies that will help keep your funeral home profitable. Workshops take place throughout the convention and cover topics ranging from cremation business best practices to efficient management to marketing your funeral home online.
2. It showcases the latest products and industry trends.
When you attend the convention, you'll have access to the world's largest funeral service expo. Inside the Expo Hall, you'll have the chance to see the latest products and services that matter to your business. While you're there, don't forget to stop by booth #904 (to the left when you enter the Expo Hall) to see what's new at Homesteaders and to check out our Tech Corner.
3. Your client families will benefit from the new perspectives you'll gain.
Fresh ideas aren't just good for your business – they're also great for the families you serve. At the convention, you'll learn about new service offerings that can add value for your client families and about how to implement consumer programs such as Have the Talk of a Lifetime™.
4. You'll have opportunities to enhance your skills.
Convention workshops will allow you to grow your skills as a funeral professional. Are your management skills up to the task of operating a successful business in today's economic climate? Do you know how to provide the best possible service to a diverse population? Are you prepared to meet consumers' needs as they increasingly turn to online resources for information? You can develop your expertise in these areas and more at the NFDA convention.
5. You can be recognized for your achievements.
The 2015 NFDA convention will recognize exceptional funeral homes and funeral service professionals at the All-Star Recognition ceremony. If you have earned a 2015 NFDA Pursuit of Excellence Award or became an NFDA Certified Preplanning Consultant, NFDA Certified Crematory Operator, NFDA Green Funeral Practices Certificate Holder or APFSP Certified Funeral Service Practitioner this year, be sure to attend this event.
6. You can network with your peers from across the country (and even around the world).
Last year's NFDA convention in Nashville, TN drew nearly 6,300 attendees who gathered to learn and share knowledge about the funeral profession. You'll have plenty of opportunities during the 2015 NFDA convention to connect with people who care as much about funeral service as you do. In addition to social events, attendees can make a difference by volunteering at the Habitat for Humanity event.
7. Online tools make it easy to optimize your experience.
There's no shortage of workshops and events to attend during the convention, and the convention website resources make it easy to make the best use of your time.
• Learn about the convention from A to Z.
• Get the full schedule of events.
• See a map of the Expo Hall to plan booth visits.
• Find out how to get around in Indianapolis.
8. It provides the training/continuing education you need.
The NFDA convention provides a great opportunity to attend training and continuing education courses on a variety of topics. You can fulfill your funeral director continuing education requirements while gaining information to help you succeed as a professional and grow your business. (To learn about other continuing education opportunities available throughout the year, click here.)
9. You'll have the chance to explore Indianapolis.
This year's convention will be held in a city with world-class restaurants, outstanding museums and many entertainment venues. Our recent blog post, Things to Do in Indianapolis During the 2015 NFDA Convention, provides a list of ideas for what to do in your spare time.
10. There will be plenty of opportunities to unwind.
In addition to great entertainment options outside of the convention, you'll also be able to relax with your peers at convention-related events. This year's Welcome Party will take place at the Indiana State Museum, where you can explore the state's natural and cultural history. There are also several optional tours and events being offered as part of the convention – click here to learn more.