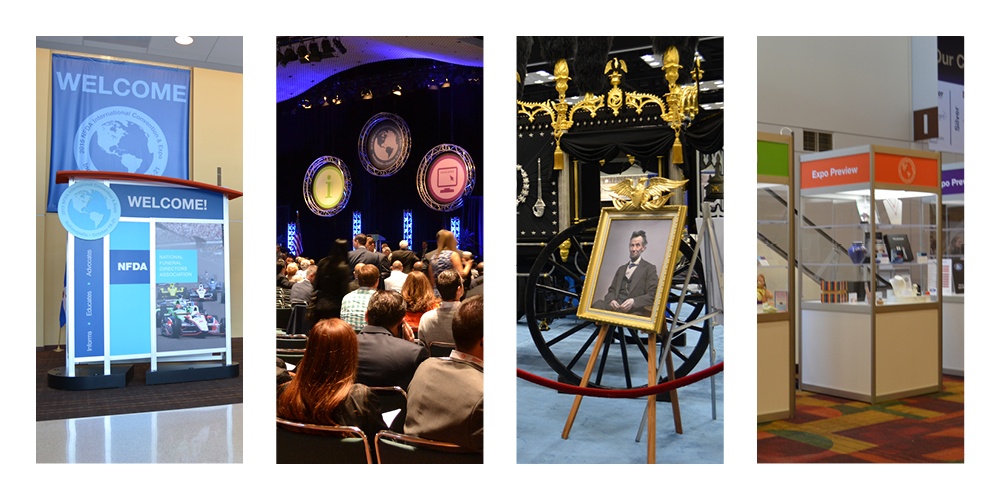 Pictured: Scenes from the 2015 NFDA convention. Homesteaders is proud to once again be a Silver Sponsor of this year's convention.
As the annual NFDA International Convention & Expo approaches, our excitement about this opportunity to connect with you grows every day. The 2016 convention is being held in October 23-26 in Philadelphia, PA, and offers numerous events, workshops and seminars for funeral professionals.
These are only some of the reasons you won't want to miss out on this year's convention.
1. You'll learn about the latest industry trends.
The NFDA convention is home to the largest funeral service expo, where you can learn about industry trends and new products. While you're there, don't forget to check out Homesteaders' display in booth #4348 to learn about our latest products and services, including our 2016 Innovation Award finalist.
2. You'll have opportunities to fine-tune your skills.
Throughout the week, you will have opportunities to participate in workshops that can help you fine-tune your skills as a funeral professional. Choose from a variety of workshop topics such as online marketing, restoration and prep room best practices and tips for managing a successful small business. Whatever you choose, these workshops will help you develop your skills even further so you can provide the best possible service to your client families.
3. You'll gain new ideas for your growing funeral business.
Attend one of the many workshops to gain insights on how to grow your funeral business. Learn new ways to market and manage your firm, how to gain a competitive edge in your marketplace and strategies to maintain a profitable funeral home.
4. You'll get the training and continuing education opportunities you need to develop your skills.
The NFDA convention provides opportunities to fulfill your continuing education requirements while developing new skills. Through seminars and workshops, attendees will be able to learn new information that can help your growing business. Click here to learn more about the continuing education opportunities at this year's convention.
5. You'll be recognized for your hard work and accomplishments.
During the All-Star Recognition Ceremony, the NFDA will recognize those funeral professionals who are NFDA Certified Crematory Operators, NFDA Certified Preplanning Consultants, APFSP Certified Funeral Service Practitioners, NFDA Green Funeral Practice Certificate holders and 2016 NFDA Pursuit of Excellence Award recipients. You won't want to miss this opportunity to celebrate with your peers and be recognized for all your hard work.
6. You can take advantage of new training opportunities.
New to the seminar lineup this year is the NFDA Arranger Training Program, where you'll learn a five-step process to make the most out of arrangement conferences with your client families. Pick which seminars you want to attend to get the most out of your convention experience.
7. You'll have the opportunity to network with other funeral professionals.
Along with learning new ideas and skills from the many seminars and workshops at the NFDA convention, you will also have the opportunity to network and learn from your fellow funeral professionals. There are plenty of networking opportunities throughout the convention from social events like the 16th Annual Foundation Golf Classic to volunteer opportunities like the Habitat for Humanity Build.
8. You'll be inspired by keynote speakers.
Not only will you learn about growing your business, you will also gain insights on how to enhance your personal growth. Listen to speakers such as Inky Johnson as he talks about how to make the world a better place through your thoughts, words and actions. You're sure to be even more inspired to offer exceptional service your client families afterward.
9. You'll have a chance to experience Philadelphia.
This year's convention will be held in Philadelphia, home of the Declaration of Independence, the Liberty Bell and the Philly cheesesteak. Don't miss the area tours for NFDA convention-goers to experience the history-filled City of Brotherly Love. Registration for the tours closes on September 23, so make sure you sign up!
10. You'll have plenty of opportunities for fun and relaxation.
Aside from all of the relaxation and entertainment outside of the convention, you will also be able to enjoy your time at NFDA-hosted events such as the Welcome Party, which will be held in the Grand Hall of the Pennsylvania Convention Center. At the party, enjoy live music, local entertainment, food and the company of your fellow funeral professionals. If you're a young professional, you'll be able to network with your peers during the Funeral Directors Under 40 Party at Philadelphia's Lucky Strike. On the final day of the convention, don't miss the Closing Party at the Union League of Philadelphia – an exclusive, members-only club – where you will be treated to a private show from The Capitol Steps comedy group.
Don't just take our word for it – check out the NFDA convention website for more highlights from this year's event.