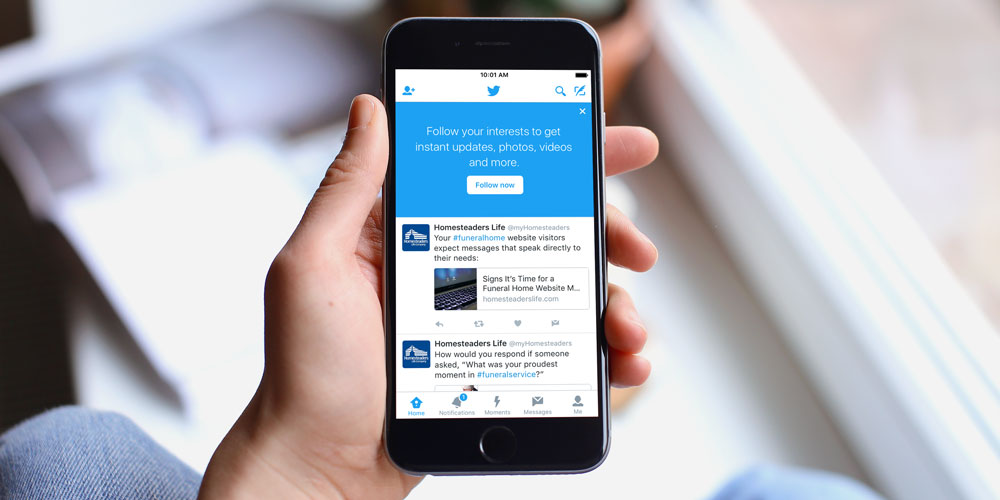 Social media can be a big and scary world. With so many different platforms and unique lingo, it's hard to know where to begin. With new social spaces coming out, what seems like every five seconds, it's hard to keep up. But having a strong social media presence is very important for funeral homes. Why, might you ask? Read this blog before continuing on to learn about the importance of marketing your funeral home.
With over 310 million active users, Twitter has become one of the biggest tools businesses utilize to connect with their customers. The microblogging site only allows posts with up to 140 characters. With that constraint on space, it is extremely important to make your words count.
If you're new to Twitter, there is some specific lingo you need to understand before diving in.
Got it? Okay, good. Let's look at a few ways to boost your funeral home's Twitter presence:
1. Start simple: Get on Twitter.
First and foremost, you need to have a Twitter account in order to have a Twitter presence. Create a username, or "handle." You only have 15 characters, so make it easily identifiable. Consider using the name of your funeral home with appropriate abbreviations. For example, instead of "funeral home" use "FH."
There is also a section called a "bio." This is where you can tell your followers a little bit about yourself. You only have 160 characters to work with, so keep it sweet and simple. Include a link to your funeral home's website and briefly explain the services you offer. Make your bio personable. People want to know that if they reach out with questions, they are reaching an actual human being, not a robot. Bios are searchable, so include key words for your funeral home that make it accessible by users. This will make your Twitter page easier for families to find and make you stand out from other funeral providers.
2. Build the right network.
With so many active users on Twitter, it is important to follow the people you are trying to reach. If you start following accounts willy-nilly, then your message will fall on deaf ears. In order to get a reaction from your followers, you need to have the right ones.
If you're struggling to find who to follow, start with an advanced search on Twitter. You are able to find accounts relevant to your community and to your funeral home. Consider starting with public leaders, organizations you support and funeral profession leaders in your area. You should also take time to follow industry associations and vendors who may have helpful insights or large audiences.
It is important to continue to grow this network. Consider taking the time to follow 50-100 accounts each day. While this may seem like a lot of work, it could take as little as 15 minutes! There are plenty of tools like Crowdfire (free) and SproutSocial (paid) that can be utilized to find the right people in the flock of Tweeple (Twitter people).
3. Generate interesting tweets.
Once you gain followers, it is important to keep them engaged. If you tweet uninteresting or irrelevant content, they might be tempted to unfollow you. The 80/20 rule is a very good one to follow: 80% helpful or valuable information for your audience for every 20% of self-promotional content.
Another way to keep your followers interested is to use photos in your tweets. I know when I am scrolling through my Twitter feed, I scroll a little slower when I see a picture. Pictures grab attention. According to marketer Jeff Bullas, content with relevant images receives 94% more views than content without. By using a picture relevant to your content, you are able to stand out in the mass of tweets and words.
It could also be useful to ask for an action from your followers at the end of your tweet. A simple "Retweet if you agree" at the end could result in more retweets and more followers. Simple, but effective.
Think of what your followers want to see. Don't know where to start? Here are some helpful hints:
Links to your funeral home blog
Events happening in your funeral home or around your community
Inspirational quotes on celebrating life and remembering loved ones
Educational content on grief support or services your funeral home provides
Photos of you and your staff
4. Schedule your tweets.
With the busy schedule at your funeral home, it can be hard to remember to tweet every day, or even once a week. But good news! There are tools out there to help you! Free tools like Hootsuite, Tweetdeck and Socialoomph allow you to sync to your profile, build your tweets in advance and pick a tweeting schedule. Ta-da! Your tweets will be sent out on time and you don't have to worry about them.
Why is it important to schedule your tweets? If you want to reach the maximum amount of followers, you need to know when they are the most active. Well, according to Dan Zarrella, social media scientist, the most Twitter engagement happens on the weekends. And if you're tweeting from the funeral home's account, you may not have the chance to tweet when people are the most active on Twitter. By building out a schedule of tweets, you don't have to worry about it. You can optimize the amount of followers you reach while focusing on the immediate needs of your client families.
5. Engage with your followers.
Don't just talk AT your followers. Talk WITH them. If one of your followers shares your tweet or retweets it, thank them for sharing the post. If they ask a question, make sure to answer it as quickly as possible – social media users have short attention spans and expect quick results.
By interacting with your followers, you build relationships and credibility with them and increase the likelihood that they will use or recommend your services.
6. Use "Tweet" social sharing on blogs.
If you are just starting to develop a Twitter presence, ask your current followers for some help. If your funeral home has a blog, encourage your readers to share the post by clicking the "Share on Twitter" button you can place at the end of the post.
If you have a great quote or some good information in your post, you can use ClickToTweet to create a direct link for tweetable content. Your readers can click the "Tweet This" button to easily share your content with the Twitter-verse.
7. Measure your results.
The only way to know if you are reaching your goal is to analyze your results. Most of the tools that I have mentioned above, like Hootsuite and SproutSocial, have tracking tools that help you measure the effectiveness of your tweets. Most of these tools are very easy to use and provide tutorials on how to apply them.
While analyzing your results, note which tweets generated the most traffic, got the most retweets or produced the most reaction. Notice which ones didn't. Learn from your successes and your mistakes and strive to do better next time.
No matter what your background on Twitter may be, these tips can help you establish a Twitter presence or improve your current one. There are a lot of tools and resources out there to help businesses get their brands and messages to their audience. Whether you're on a budget and need a free service, or have a little wiggle room for a more in-depth tool, determine which fit is best for you. There are a lot of tools out there! Continue to educate yourself on different social media platforms and build those relationships with your client families.