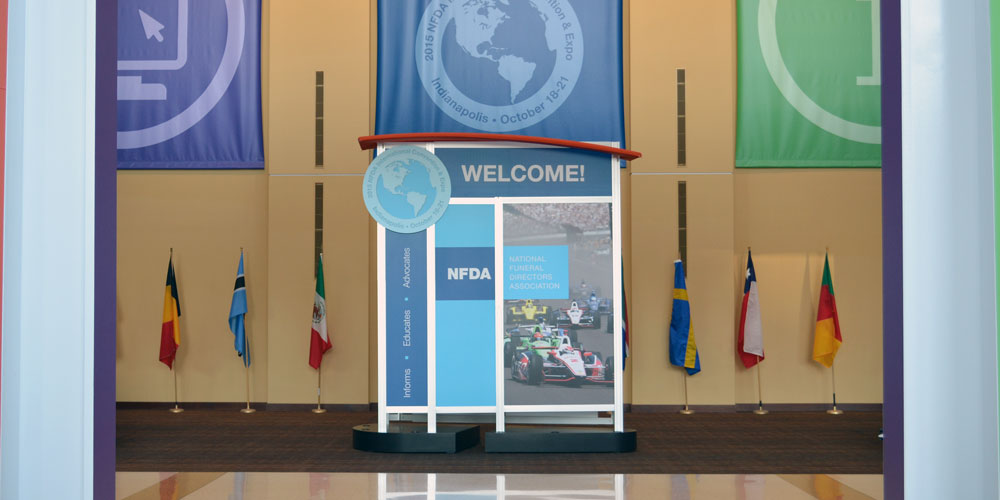 Last week, nearly two dozen representatives from Homesteaders' executive team and sales staff attended the 135th annual NFDA International Convention & Expo in Indianapolis, IN. This year's convention boasted attendees from 33 countries and featured exhibitors from all aspects of the funeral profession.
With over 300 vendors, the NFDA expo is by far the largest funeral service expo in the world. This year's convention attendees found the latest innovations, products and trends on the expo floor – everything from clear caskets and custom-made urns to DNA memorialization and, of course, pre-need funeral funding.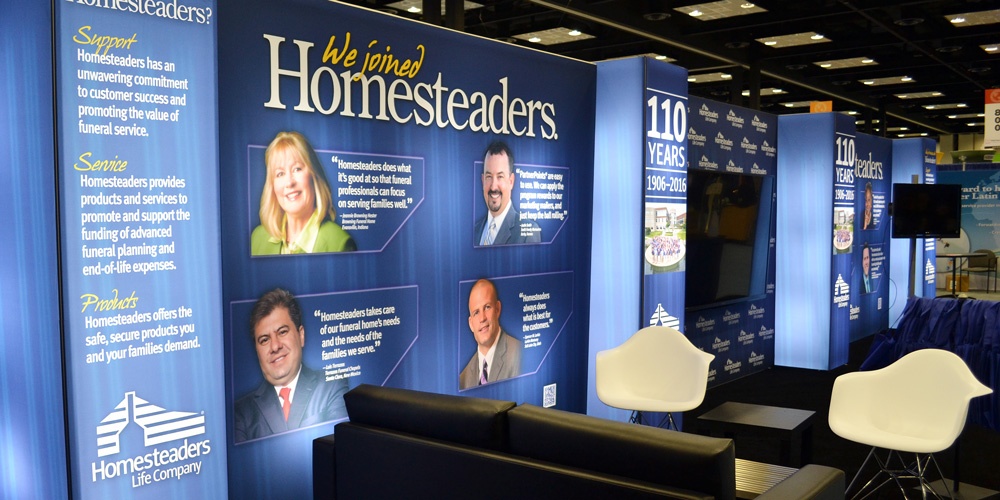 Missed out on convention? Not to worry! We've got you covered with a quick recap of some of our Homesteaders highlights.
This year, we invited the Homesteaders Tech Team to share some of the latest updates to Homesteaders' digital tools at our booth. In addition to offering live demos of our online enrollment, online claims, myHomesteaders.com dashboard and easy-to-use rate calculator, the Tech Team hosted a #myTechTeam social media contest – complete with selfie sticks. Congratulations to Tim Strauser of Blasé-Strauser Memorial Chapel, Mark Thomas of Watson Thomas Funeral Home and Robert Billman of Fleming & Billman Funeral Directors, this year's contest winners. We hope you enjoy your new Kindle Fire HD tablets! Click here to learn more about Homesteaders' Teach Team support.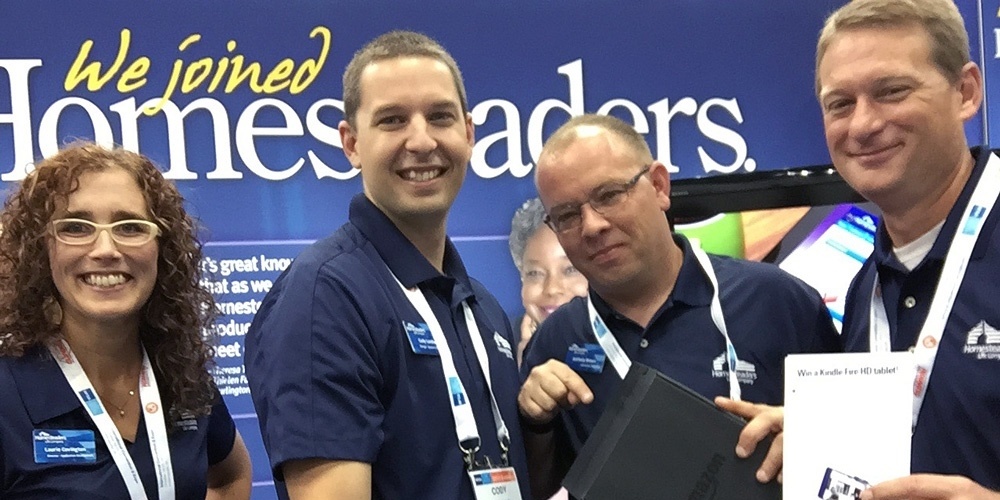 Another highlight on the expo floor was a replica of President Abraham Lincoln's funeral coach. Homesteaders' partner P.J. Staab II of Staab Funeral Home in Springfield, IL, has worked tirelessly over the last two years to recreate the 1865 hearse that transported Lincoln to his resting place in Oakridge Cemetery. Staab commissioned the replica for last spring's 150th anniversary reenactment and generously loaned the custom-made hearse to the NFDA for the 2015 expo. The display featured the coach as well as a replica of Lincoln's funeral casket and a wax recreation of the president lying in state. The exhibit served as a nice complement to Tuesday morning's Service of Remembrance, which also honored the late president.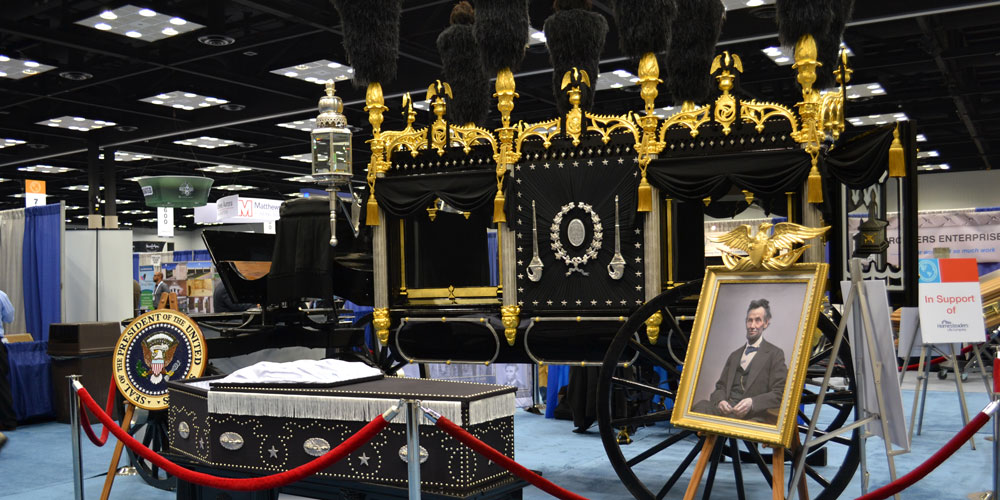 Many Homesteaders representatives attended the Funeral Service Foundation's Monday night reception, including Homesteaders COO Steve Shaffer, who is the Foundation's outgoing Board Chair. Homesteaders is one of the Foundation's top four financial supporters and advances its mission to fund projects and programs that promote the funeral profession and encourage meaningful relationships in the community. Two Homesteaders employees, Senior VP-Marketing Dean Lambert and Senior Account Executive Jill Lambert, were honored at the reception for completing a memorial pledge. They join other Homesteaders donors including current Chairman, President and CEO Steve Lang and former CEO Graham Cook. Click here to learn more about how you can further the Foundation's mission.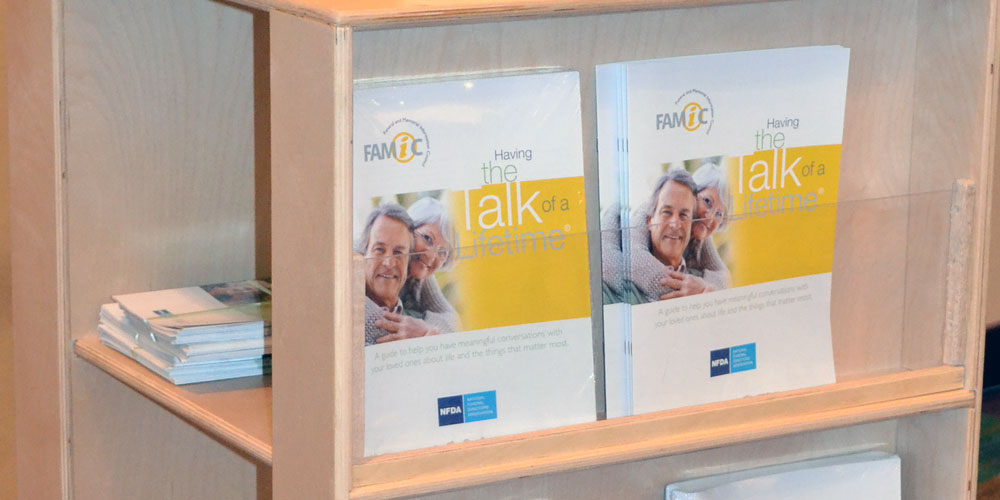 On Wednesday, the Funeral and Memorial Information Council (FAMIC) offered a special preview of the national launch of their Have the Talk of a Lifetime® campaign. Through the joint efforts of several industry-leading organizations, FAMIC hopes to equip funeral professionals with the tools they need to better serve families who choose to prepare and fund advance funeral plans. To learn more about how your funeral home can use these materials to increase the effectiveness of your marketing efforts, visit the FAMIC website.
Homesteaders was also happy to celebrate the inauguration of one of our funeral home customers as president of the NFDA. Congratulations to Bob Arrington of Arrington Funeral Directors in Jackson, TN. Bob has been a Homesteaders partner for many years and is a strong advocate of the value of funeral service and the importance of pre-need. He succeeds Past President Rob Moore of Moore's Home for Funerals and is joined on the Executive Team by W. Ashley Cozine of Broadway Mortuary (President-Elect), Kenneth "Ken" Cahall of Cahall Funeral Homes (Treasurer) and Charles T. "Chuck" Bowman of Horan and McConaty Funeral Service and Cremation (Secretary).
Thank you to everyone who made this year's convention so successful! We're looking forward to seeing all of you in Philadelphia for the 2016 convention!
Visit the NFDA website for more highlights, including free webcast recordings of the general sessions.