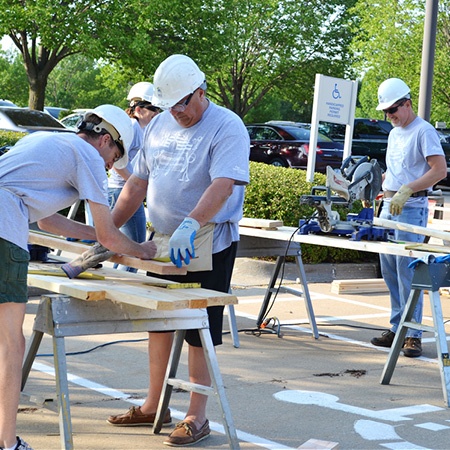 West Des Moines, Iowa — Homesteaders Life Company, a national leader in pre-need funeral funding, partnered with the Greater Des Moines Habitat for Humanity this week to complete an on-site panel build at their office in West Des Moines. In less than a day, 65 Homesteaders volunteers constructed all the interior and exterior walls of a 1,100-square-foot home.
"This is such a great cause and a rewarding experience for our employees," explained Homesteaders Executive VP-Human Resources Judy Ralston-Hansen. "After our successful Habitat build last fall, we decided to plan a second one for this week so that our field reps could participate during their semi-annual sales meeting."
Despite the July heat, Homesteaders employees spent the day measuring, cutting and framing the walls of a split-level home planned for a deserving family in Des Moines. The build is part of Habitat's affordable homeownership program, which offers cost-effective housing opportunities to families throughout the metro area.
"Homesteaders has always been committed to giving back to our community and the funeral profession," observed Homesteaders' Chairman, President and CEO Steve Lang. "Today's Habitat build was another great example of our collective commitment to investing in our community." Lang is currently serving on the board for the Greater Des Moines Habitat for Humanity.
A local family will purchase today's panel build home using an affordable mortgage – made possible, in part, by the volunteer labor and financial support provided by Homesteaders. Prior to purchasing their new home, the buyers will complete more than 40 hours of classes and counseling covering home maintenance, money management and neighborliness. The homebuyers will also invest 300-400 hours of sweat equity in the construction of their home and other Habitat projects.
Greater Des Moines Habitat for Humanity is a Christian ministry that brings people together to build homes, communities and hope. Hard-working families apply for partnership with Habitat for Humanity based on three criteria: need for housing, ability to pay and willingness to partner. At closing, families purchase their home through an affordable mortgage. For more information visit gdmhabitat.org
Homesteaders Life Company is a national leader providing products and services to promote and support the funding of advance funeral planning and end-of-life expenses.