In last month's article, we talked about the benefits of a solid strategic planning process for your funeral home business. As promised, this month we'll talk about creating a strategic planning cycle that will help guide your business far into the future.
At Homesteaders, we employ a strategic planning cycle with four basic elements: an environmental scan, strategic framework development and review, business planning and initiative development and initiative execution. As you can see from the image below, our planning process is truly a cycle of activities that builds on the previous cycle and lays the groundwork for future work.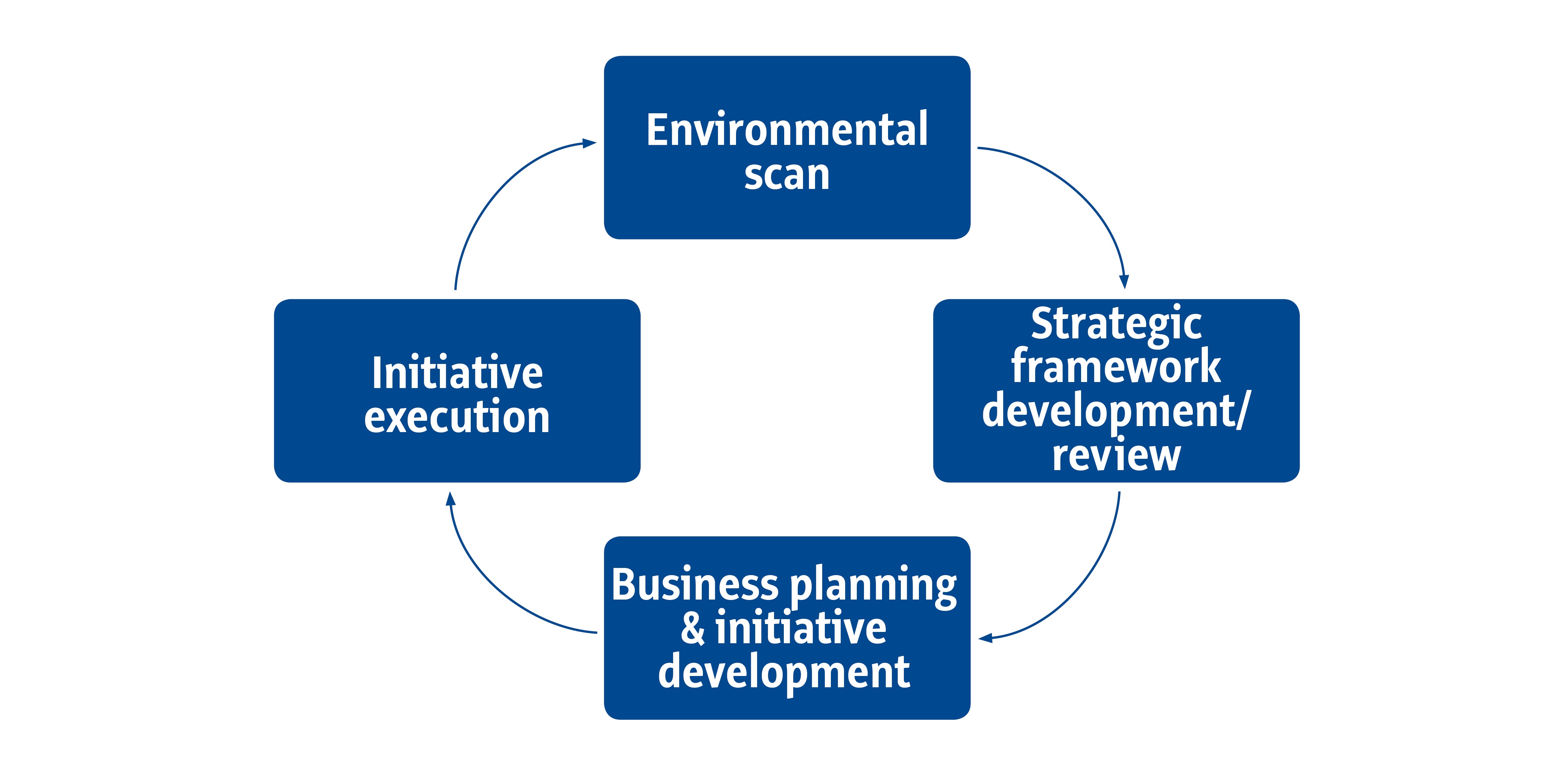 Environmental Scan
The environmental scan phase of your strategic planning can include a variety of investigative activities. The purpose of this phase is to help you and your team better know and understand the world in which you do business, both internal and external. As a strategic planning facilitator, I prefer gathering a mix of qualitative and quantitative information to inform the planning cycle.
Funeral home owners will likely be interested in quantitative data such as how many deaths occur in your primary and secondary service areas and any information you can gather about how those numbers are trending up, trending down or staying stable. You may also consider how many of those deaths are going to your competitors compared to how many are being served by your funeral home, the average income in your service area and the average costs related to funeral service.
The qualitative data you might gather would include feedback from your family service surveys and any other information you might have about the end-of-life and death care preferences in your community. It may also be helpful to understand how actively your competitors are marketing, any new services they are offering and how the community is responding to those activities.
Another element of your environmental scan might be a SWOT analysis to help you identify your firm's strengths, weaknesses, opportunities and threats. This type of analysis can help set the stage for building your strategic framework.
Strategic Framework Development and/or Review
Key to your ability to build and execute a business strategy is identifying exactly where your focus is. As a funeral home, you might decide to be the best full-service funeral home in your community, or you could choose to focus on more affordable or discounted funeral service options. You might choose to be the best provider of services to newcomers to your community or offer services specific to key ethnic groups. These decisions should be guided by the findings of your environmental scan and SWOT analysis.
A couple of things to remember when developing your strategic framework:
Draft your framework carefully and test it with a variety of what-ifs. This is the element of your planning which should stay relatively stable over time. Shifts in your environmental situation might cause you to tweak or adapt your framework, but wholesale changes should only happen in response to significant adjustments in your situation or competitive environment.
Your framework is designed to help you decide what to do and what NOT to do. If an initiative or activity doesn't help you achieve your purpose, you should probably avoid devoting resources to it, no matter how compelling the opportunity might seem.
Business Planning and Initiative Development
This phase of your planning cycle will involve identifying and prioritizing the initiatives that will help achieve your goals for your business. It's very important that you focus on assigning adequate resources and attention to the business planning and prioritize your efforts. Attempting to do too many initiatives is nearly as detrimental to your business as doing nothing because the result is often the same – nothing gets done!
Initiative Execution
As noted above, the execution phase needs to be properly prioritized to successfully meet your goals. Once you complete a project, you can move on to the next one. Key to this phase is designing a process which identifies timelines and resource allocation (including budget) as well as responsible parties. It's also important to set up a process for tracking the outcome of your initiatives in order to better understand what works for your firm and what you might do differently the next time.
The elements of strategic planning largely remain the same regardless of how detailed or simple the planning process you identify for your business. The best approach is to begin with a process that is do-able for your organization. You can certainly add elements to your process as time goes by and you get more comfortable with accomplishing the planning cycle.
The most important step? Getting started!
As Senior VP-Planning & Development, Kim Medici Shelquist seeks opportunities and solutions to help our company and funeral professionals meet consumer demands long into the future. Click here to learn more about the leadership team at Homesteaders.